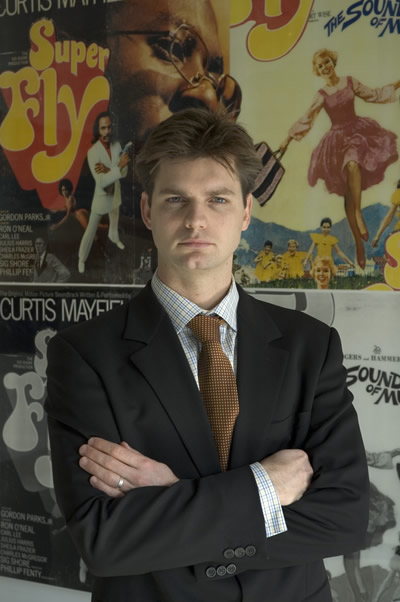 Photo : Morgan McGivern
November, 2005
It has to be a great moment for a new dealer. The gallery is empty, spotless, its walls freshly whitewashed, and against those walls looms a stack of flat cartons, the substance of the gallery's inaugural show, ready to go.In this case the young dealer is James Salomon, associate director of the Mary Boone Gallery in Manhattan, who is fulfilling a desire to open his own gallery on the East End.
The Salomon Gallery is above the Paradise Cafe on Main Street in Sag Harbor. Its white walls, dark wood beams, and massive black air vents form a perfect backdrop for the first show, Donald Sultan's "Where There's Smoke. . . ." It will open on Saturday with a reception from 7 to 9 p.m.
Last week, Roman Smythe, Mr. Salomon's assistant, ran a box cutter down the sides of one of the cartons and it fell open to reveal a black 6-foot-by-6-foot-long square with three huge smoke rings drifting across it. Tendrils of smoke wandered across the frame like a retinal after-image. The two men lifted it clear and positioned it against one wall. It is no exaggeration to say that it looked stunning.
The works were conceived in 1997. Richard Silvaris took the photographs, using a strobe light and a black backdrop. Mr. Sultan blew the cigar smoke and decided on the composition and cropping of the images. Each picture, in which the giant rings form different patterns, is from a single negative that has not been manipulated in any way.
By the time Mr. Salomon was satisfied with the placement of five of the large works - three in one room, two in another - the space was Chelsea. It was culture shock to step outside to find the Sag Harbor Variety Store, with its sign announcing that Halloween candy was half price, rather than Comme des Garcons.
This is Mr. Salomon's first show in Sag Harbor, but he announced his presence on the South Fork by opening a warehouse in an industrial building on Plank Road in East Hampton. Here he will show by appointment the work of the five East End artists he is representing: Peter Dayton, Michael Halsband, Mike Solomon, Ned Smythe, and Darius Yektai. A building-wide door rolls up to reveal a 20-foot-long surfing photograph by Mr. Halsband in four bands of color and a work by Mr. Dayton that can be partly seen in the photograph accompanying this article.
A projector can be lowered from the ceiling to show films or video works and a storage area can be adapted to hold very large paintings or allow prospective buyers to get a close-up view of the pictures.
In the future, Mr. Salomon expects also to show some Mary Boone artists who have houses on the East End - Eric Fischl, Ross Bleckner, and Eric Freeman.
"Mary has been tremendously supportive," he said. He said that he was lucky not only that Mr. Sultan had agreed to inaugurate the gallery but that his dealer Miles McEnery had gone out of his way to help.
Seeing that Mr. Salomon works 60 hours a week for Mary Boone, and that he has just become a new father, how did he have the confidence and the energy, or the chutzpah, for this new venture?
"One of the reasons I started now is because I knew about the expansion of the Parrish Art Museum, that it was going to be a Herzog and De Meuron building. It's going to add another dimension to the South Fork and I wanted to be on solid ground by 2009. I'm not here to die on the vine."
Mr. Salomon was born and raised in Westhampton, but never expected to find himself back on the Island. He got a degree in filmmaking and moved to France after college. On a job quest in the Latin Quarter he ended up at the bookstore of the famous Galerie Maeght, which had represented Bonnard, Matisse, Braque, Leger, Chagall, Miro, Chillida, and a host of other fabled names. Filmmaking went out the window.
"I was 21 and it was my first internship. The rest is history."
After four years he returned to New York City with one ambition in mind, to work for Mary Boone.
"It took me six months of pestering, but she finally called me. She has been a very influential figure for me in the way of presentation, business, and big picture issues."
Everything he has thought about doing, he says, is beginning to come into play, but he is still far from where he would like to be.
"It's really about coming up with fresh ideas and the best possible scenario for the artists. The most important aspect of being a dealer is the relationship with the artist. I feel very comfortable with and confident about the guys I've gotten together with out here."
"Part of making all this happen," said Mr. Salomon, "is just having the audacity to believe you can do it."